Cadbury's Factory Tins
Cadbury's is one of Britain's leading chocolate makers, having begun as a one man business opened in 1824 by a young Quaker, John Cadbury, in Birmingham. 1866 saw a turning point for the company with the introduction of a process for pressing the cocoa butter from the cocoa beans which enabled Cadbury Brothers to produce pure cocoa essence. The plentiful supply of cocoa butter remaining was also used to make new kinds of eating chocolate.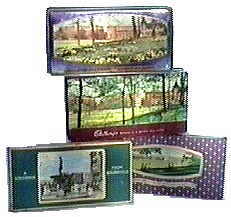 Business prospered from this time and Cadbury Brothers moved in 1879 to a 'greenfield' site some miles from the centre of Birmingham which came to be called Bournville. The opening of the Cadbury 'factory in a garden' also heralded a new era in industrial relations and employee welfare with joint consultation being just one of the initiatives introduced by the pioneering Cadbury brothers.
It's the Bournville factory which features on the tins we've collected, and we believe were given to groups who toured the factory as they left, as a momento of their visit. These must have begun in the 1920's as the first of the series of identically sized tins dates from this era.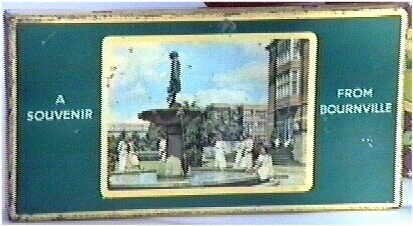 We believe this tin dates from the 1920's. It shows Cadbury workers (all female in white smock dresses) enjoying a break at a fountain by the factory. The fountain is visible (or at least identifiable) in all the other pictures.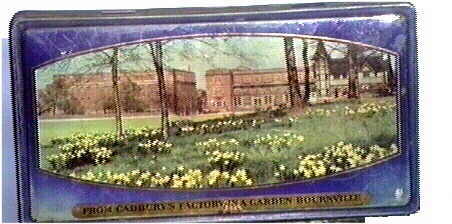 This tin dates from the 1930's. The gap between the two factory buildings can be identified in the 1920's picture above by the angled bow windows. With apologies for the quality of the picture, the statue can just be seen on the original. The words 'From Cadbury's factory in a garden' which originate here are used on the future tins.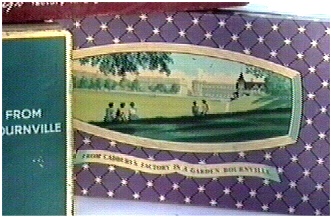 This tin dates from the 1950's. Again it shows staff having a break under the trees on a hot summer's day. The costumes have changes (feminine dresses now) and emphasises not only the chocolate but the environment of the factory in which it was created.
Click here to return to

If you would like to contact us, please feel free to drop a line. (You'll need to substitute the word 'at' with a '@' symbol on the actual mail address.) :