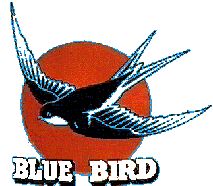 Based at Hunnington at Halesowen in the West Midlands of England, the Bluebird Confectionery Company started in 1898. Today Bluebird employs some 400 people making and selling confectionery around the world. Our collection of Bluebird toffee tins dates back to the 1920's (and perhaps earlier, we're not sure) . It began with the two tins pictured on the Tins index page. We've found more and more and now have around twenty of all shapes and sizes, mostly picked up in boot fairs and other bric-a-brac stalls. A selection appear here. A major part of the collection is the Christmas tin set, which is explained here.
If you want to know more about the Bluebird company and its tins click here. We would love to know more, especially if anyone has ever catalogued the tins, or can help us either with dates, or if any of the information here is not accurate.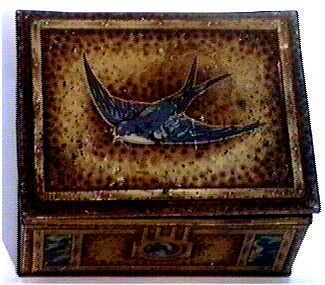 This looks like the oldest Bluebird tin we have and dates (we think) from around the 1920's. It's in very good condition and the 'Egyptian' motif suggestions of the design would put it around 1924-1926, when Egyptology was all the rage, both because of the Tutenkhamen discoveries, and the Empire Exhibition at Wembley which had Egypt as its theme. The interior of this tin is especially fine (toffees 4d per quarter at this time) and shows it was designed for use in shops rather than to be taken home.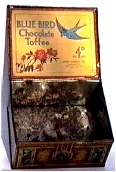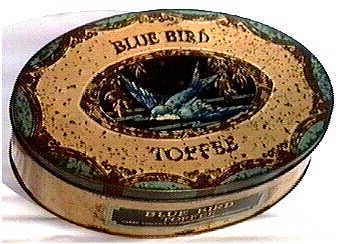 This is the largest Bluebird tin, being some 16 inches wide. Time has taken its toll and the rust is spotting through the paint, but it still shows its cream and blue colouring well.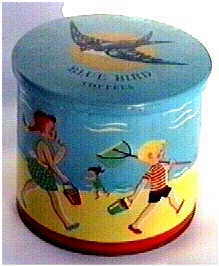 This Bluebird product isn't really a tin. Although the top and bottom are metal, the side is a tube of cardboard. It's very easy to get drawn into 'reasoning' but given the late 1940's and 1950's design, was this a victim of metal rationing after the Second World War when card was easier to come by?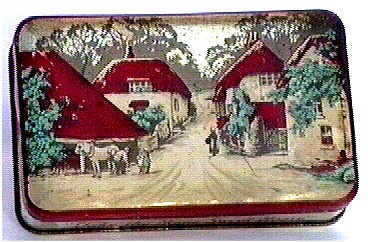 This is a Christmas tin (not to be confused with our other Christmas tins from Bluebird), measuring some eight inches by five.






Click here to see more Bluebird Toffee tins.
Click here to return to

(There is an irony in Bluebird Toffee/Confectionery starting in 1898 - it's almost the same time as another interest, The Trocadero!)
If you would like to contact us, please feel free to drop a line. (You'll need to substitute the word 'at' with a '@' symbol on the actual mail address.) :