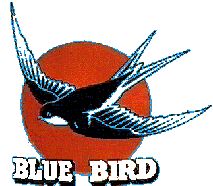 More about the Bluebird Toffee company and its tins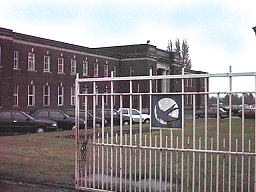 Harry Vincent set up as a confectioner near Birmingham in the West Midlands of England in the 1898. He had the ambition to build a factory which would not only be very beautiful but also a pleasant place to work - a common experience shared for example by the Cadbury family who built on green fields not far away at Bourneville, and the Fry's who built their chocolate factory near Bristol. Harry Vincent realised his ambition in 1927 when his factory was built. Until this time his toffee was called Harvino, but when Harry came across Maeterlink's play 'The Blue Bird of Happiness' he renamed it the product Blue Bird.'
The factory is in Romsley (although the address used on tins actually identifies the district it is in called Hunnington), two miles south of Halesowen and about ten miles west of Birmingham. However Bluebird left the site in October 1998, and the company has now moved to Hull as part of 'Needlers'. The site is occupied (April 1999) by a company called 'Tiny Tots Limited' but still retains the strong Bluebird identify, as the pictures show. Nowadays though, the modern Bluebird company rarely uses tins, except for special occasions, eg an embossed chest featuring the original factory was produced in 1995 to commemorate their centenary.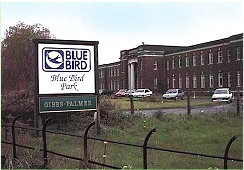 Bluebird used a huge range of designs, often over 20 in a typical 1950s year, the number of designs reduced in later years. Many themes were covered, eg places 'Hyde Park', 'Ludlow Castle', 'Sorrento'; Christmas designs, often featuring Santa Claus bringing presents to a sleeping child; 'kiddies tins', which are small tub-shaped tins, with designs that included merry-go-rounds, children or animals dancing around the tin, beach scenes etc. This tub shape was used through to the end of the 1970s, by which time designs included kings and queens of England, rockets, hang glider flight.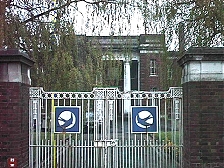 In the 1970s photographic images were used, eg for 'Football' issued in 1972-4. An Ian Logan house-shaped tin 'House of Horrors' was used in 1981 and around the same time some glitzy, gilt caskets were issued, with red felt finish.
Blue Bird tins found today range from the small gift size (3 ½ oz) up to the large display tins. Many feature the swallow motif, which was used on the side of the small tins and on the interior lid of the display tins. The smaller tins often included the slogan 'Take the home sweet home', which was used from the 1920s through to the 1950s. It is rare to find a Harvino tin (from pre 1927) and the Blue Bird tins typically found at car boot sales or collectors fairs are usually from 1950s or later.
The following guide may help date your tins.
If the address on the tin includes 'West Midlands' it is 1974 or later. If instead it ends 'Halesowen B62 0EN' it is early 1970s (as postcodes were introduced around then). If the address ends 'Hunnington, Worcestershire' then it is 1950s or 60s. If the address ends 'Hunnington near Birmingham' it is 1930s - 1950s. Some of the older tins are rectangular-shaped, but with the corners cut off - leaving an eight sided tin with relatively sharp corners. By the 1960s the tins were simpler - four-sided with rounded corners - and had slip lids. The older tins sometimes had hinges.
As well as tins, other Blue Bird items which may be found include promotional offers (eg a round tray with the swallow motif and glasses) and toffee hammers.
We are indebted to Richard & Celia Cotton for most of the above information.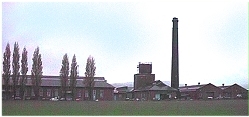 Click here to return to see Bluebird Toffee tins.
Click here to return to

If you would like to contact us, please feel free to drop a line. (You'll need to substitute the word 'at' with a '@' symbol on the actual mail address.) :